Download Literature in English WAEC Syllabus for SSCE and GCE 2021. This WAEC Syllabus should serve as your guide for tackling WAEC questions in Literature.
With this syllabus, you will therefore know exactly which topics to read before preparing for your exams.
What is WAEC?
The West African Examinations Council (WAEC) is an examination board established by law to determine the examinations required in the public interest in the English-speaking West African countries, to conduct the examinations and to award certificates comparable to those of equivalent examining authorities internationally.
It is similar to the Cameroon GCE Board or the Uganda National Examination Board (UNEB).
The WAEC was established in 1952 and has contributed to education in Anglophonic countries of West Africa (Ghana, Nigeria, Sierra Leone, Liberia, and Gambia), with the number of examinations they have coordinated, and certificates they have issued.
They also formed an endowment fund, to contribute to education in West Africa, through lectures, and aid to those who cannot afford education.
The council conducts four different categories of examinations which are;
International Examinations,
National Examinations,
Examinations conducted in collaboration with other examining bodies,
and Examinations conducted on behalf of other examining bodies.
The International exams are exams taken in the five countries with the WAEC ordinance. It consists of WASSCE (West African Senior School Certificate Examination):
WASSCE FOR PRIVATE CANDIDATES (FIRST SERIES) JANUARY–FEBRUARY
WASSCE FOR (SCHOOL CANDIDATES) MARCH – MAY
The National examinations are taken in individual countries. They include:
the Junior Secondary School Certificate for Nigeria and the Gambia,
Junior and Senior High School Certificate Examinations for Liberia,
National Primary School and Basic Education Certificate Examinations for Sierra Leone,
Basic Education Certificate Examinations for Ghana, and
Senior School Certificate Examinations for Ghana.
The council also coordinates examinations in collaboration with some trustworthy examination bodies. These include:
The council also conducts examination in West Africa on behalf of international examination bodies. These include:
University of London GCE
Scholastic Aptitude Test and Graduate Record Examinations for Educational Testing Service, Princeton, USA, and
JAMB (Joint Admissions and Matriculations Board) examination in countries outside Nigeria.
Literature in English WAEC Syllabus for SSCE & GCE 2021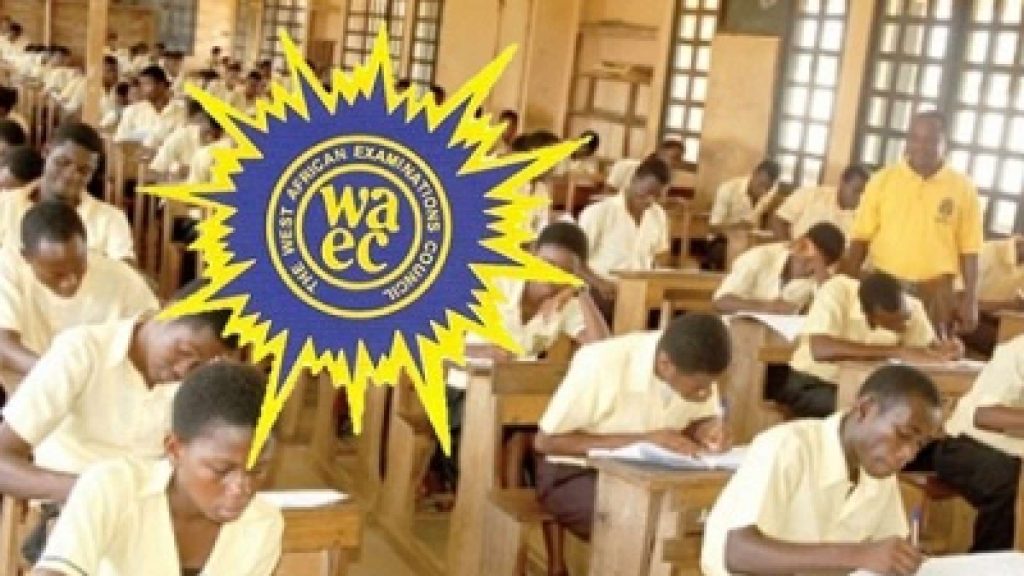 LITERATURE-IN-ENGLISH
SCHEME OF EXAMINATION
There will be three papers – Papers 1, 2 and 3. Papers 1 and 2 will a composite paper and will be taken at one sitting.
Paper 1 will be a multiple choice objective test. It will contain fifty questions distributed as follows:
(a) Twenty questions on General Knowledge of Literature;
(b) Five questions on an unseen prose passage;
(c) Five questions on an unseen poem;
(d) Twenty context questions on the prescribed Shakespearean text.
Candidates will be required to answer all the questions within 1 hour for 50 marks.
Paper 2 will be an essay test with two sections, Sections A and B. Section A will be on African Prose and Section B on Non-African Prose.
Two essay questions will be set on each of the novels prescribed for study. Candidates shall be required to answer one question only from each section within 1 hour 15 minutes for 50 marks.
Paper 3 will be on the Drama and Poetry components of the syllabus. It will be put into four sections, Sections A, B. C and D as follows:
Section A: African Drama
Section B: Non-African Drama
Section C: African Poetry
Section D: Non-African Poetry
There shall be two questions on each of the prescribed drama texts for Sections A and B. There shall also be two questions for each of the poetry sections ie Sections C and D.
Candidates shall be required to answer one question from each of the sections, making a total of four questions. The paper will take 2 hours 30 minutes to complete and will carry 100 marks.
Download the full syllabus in PDF
Get these free Books
---
Comment(s):
---
---