The West Region of Cameroon is located in the central-western portion of the Republic of Cameroon and borders the Northwest Region to the northwest, the Adamawa Region to the northeast, the Centre Region to the southeast, the Littoral Region to the southwest, and the Southwest Region to the west. The West Region is the smallest of Cameroon's ten regions in the area, yet it has the highest population density.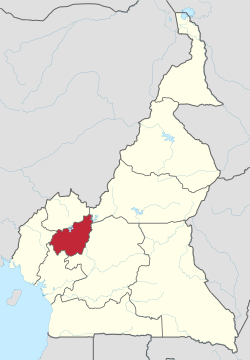 The region whose headquarter is Bafoussam is divided into eight (08) divisions namely Bamboutos, Haut-Nkam, Hauts-Plateaux, Koung-Khi, Menoua, Mifi, Ndé and Noun. It is the smallest of Cameroon's ten regions in the area, yet it has one of the highest population densities.
The West's population density is high in general, especially in the towns of Bafoussam, Dschang, Mbouda, and Bafang. This is due to the pleasant climate and fertile soils. Bafoussam is both the provincial capital and the centre of the Bamileke lands. Populations thin out toward the southern border and in the eastern Bamum-dominated territories. Settlements are scattered.
The region experiences significant out-migration, particularly when the vast plantations of the Southwest Province hire workers for annual harvests. Permanent emigration is mainly by those who wish to escape the overcrowded conditions and to farm larger pieces of land and is directed mainly to the Southwest and Littoral Provinces.
In this region of Cameroon, we have two major tribal groups: the Bamileke and the Bamum. Both of these are considered semi-Bantu or grassfields Bantu. The Bamileke are the more numerous, estimated to number 3000000 or more. They are concentrated southeast of the Bamboutos Mountains and west of the Noun River. Their major settlements are at Bafoussam, Bandjoun, Bafang, Bawaju, Bangangté, Dschang, and Mbouda. They organise themselves in sub-groups, each under the rule of a different chief. Examples are the Fe'fe', Ghomala, Kwa', Medumba, Mengaka, Nda'nda', Ngomba, Ngombale, Ngiemboon, and Yemba. Most of these groups speak a unique language, though all are closely related. Most Bamileke is Christian, with Catholics in the majority.
The Bamum people are the area's other major ethnic group. They are a subgroup of the Tikar, though they speak a language called Bamum. They are primarily Islamic, and all are ruled by a sultan in their tribal capital, Foumban.
Other languages spoken in the province include Bamenyam, Mbo, and Tikar. Most educated inhabitants also speak French.
---
Further reading