The International General Certificate of Secondary Education (IGCSE) is the English language-based examination similar to GCSE and is recognized in the United Kingdom as being equivalent to the GCSE for the purposes of recognizing prior attainment. It was developed by the University of Cambridge International Examinations.
Today, it's the world's most popular international qualification for 14 to 16-year-olds. Not only is it truly international – it gives students more options than any other international qualification. That means more subjects to choose from, more ways to learn, and more ways to succeed.
The IGCSE is the 'international' version of this academic qualification as it's available in many countries around the world. In the UK, the IGCSE is typically taught at international schools or private schools, rather than at state schools.
The qualifications are based on individual subjects of study, which means that one receives an "IGCSE" qualification for each subject one takes. Typical "core" subjects for IGCSE candidates include a First Language, Second Language, Mathematics, and one or more subjects in the Sciences.
Cambridge IGCSE curriculum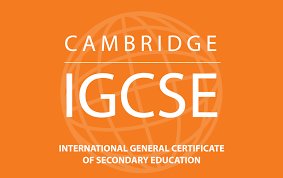 The Cambridge IGCSE curriculum offers a variety of routes for learners with a wide range of abilities, including those whose first language is not English.
Schools can build a curriculum around their specific needs based on the IGCSE system.
tarting from a foundation of core subjects, it is easy to add breadth and cross-curricular perspectives. Encouraging learners to engage with a variety of subjects, and make connections between them, is fundamental to our approach.
For schools, Cambridge IGCSE offers a flexible and stimulating curriculum, supported with excellent resources and training.
For learners, Cambridge IGCSE helps improve performance by developing skills in creative thinking, inquiry, and problem-solving. It is the perfect springboard for advanced study.
There are over 70 subjects available at Cambridge IGCSE, including 30 languages, and schools can offer them in any combination. Cambridge IGCSE develops learner knowledge, understanding, and skills in:
Subject content
Applying knowledge and understanding to new as well as familiar situations
Intellectual inquiry
Flexibility and responsiveness to change
Working and communicating in English
Influencing outcomes
Cultural awareness.
Schools worldwide have been involved in the development of Cambridge IGCSE. The syllabuses are international in outlook but retain a local relevance. They have been created specifically for an international student body and avoid cultural bias.
Find out more about Cambridge IGCSE subjects.