The Centre Region of Cameroon has as head-quarter Yaoundé; the countryùs Capital city. The Centre Region (French: Région du Centre) occupies 69,000 km² of the central plains of the Republic of Cameroon. It is bordered to the north by the Adamawa Region, to the south by the South Region, to the east by the East Region, and to the West by the Littoral and West Regions. It is the second-largest (after East Region) of Cameroon's regions in land area. Major ethnic groups include the Bassa, Ewondo, and Vute.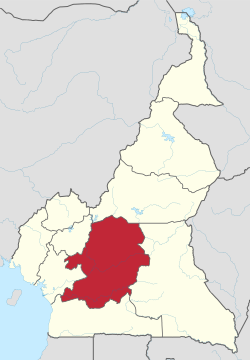 The Centre is one of the most important centres for the Bantu group known as the Beti-Pahuin (Béti-Pahouin), the "Fang-Beti," or simply the "Fang". These peoples share a common language and have similar customs. The Beti-Pahuin are further broken down into the Beti, most of whom live in the Centre Province, and the Bulu and Fang, who primarily inhabit the South.
Capital
Yaoundé
Divisions
Haute-Sanaga, Lekié, Mbam-et-Inoubou, Mbam-et-Kim, Méfou-et-Afamba, Méfou-et-Akono, Mfoundi, Nyong-et-Kéllé, Nyong-et-Mfoumou, Nyong-et-So'o
Government

 • Governor
Eyene Roger Nlom
Area

 • Total
68,953 km2 (26,623 sq mi)
Population

 • Total
4,159,500
 • Density
60/km2 (160/sq mi)
The Centre's soil is primarily composed of Precambrian deposits of metamorphic rocks, such as gneiss, mica, migmatites, and schists. Granite dominates from about 4˚ N and to the Adamawa border. Faults along the border with the South Province have deposited metamorphic schists and quartzites, with some granite. Laterites are also common, caused by the decomposition of the crystalline rock.